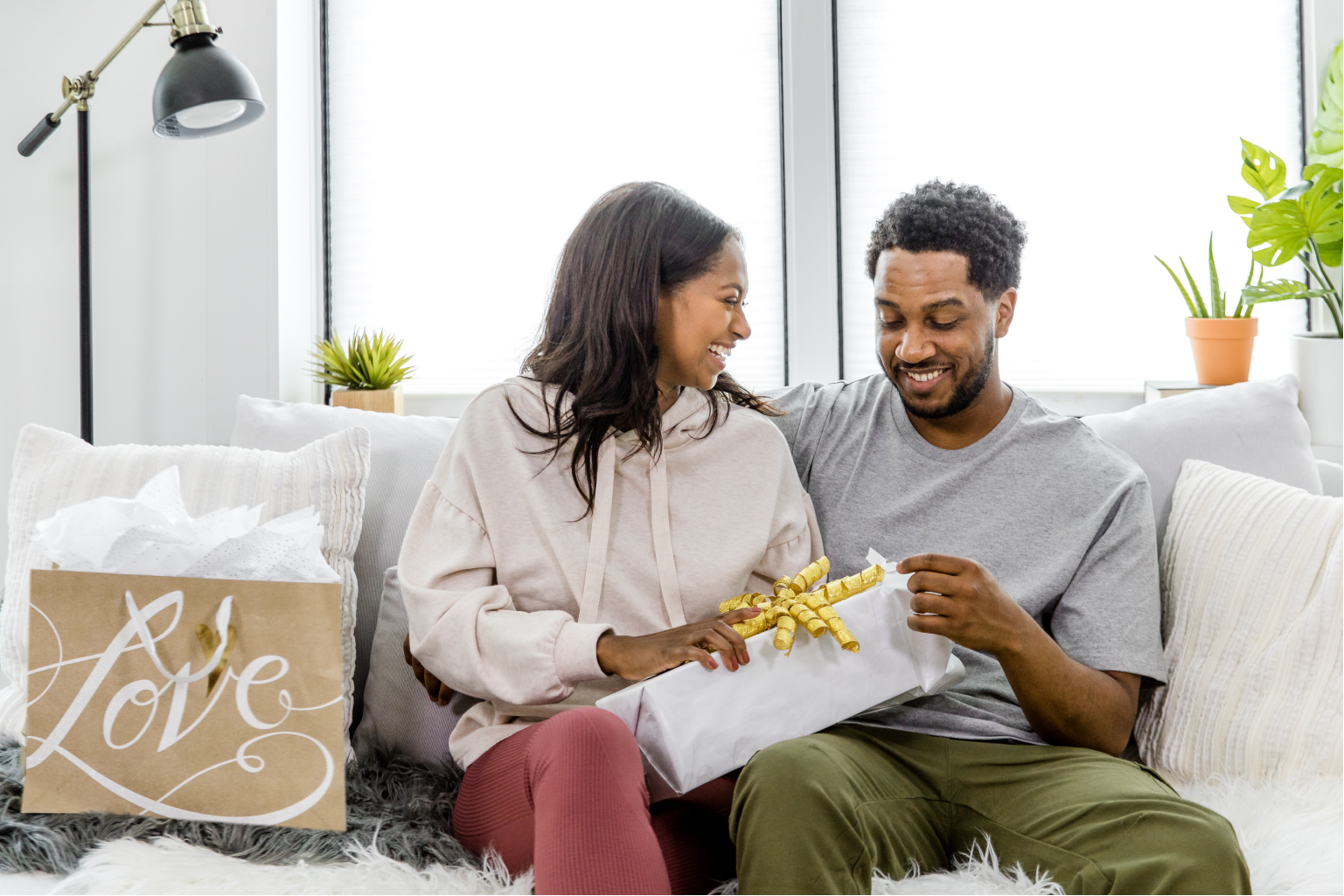 Your registry, exactly how you want it
From top brands and cash funds, to experiences and charities, create your one-of-a-kind wishlist with us.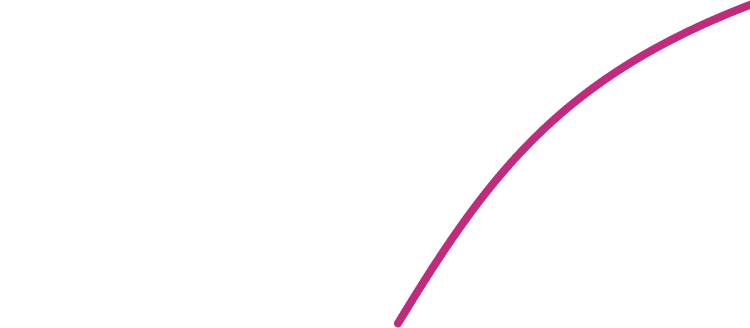 The most-trusted, easy-to-use wedding registry
No one else comes close. With over 25 million couples, you know you're in the right place.
It's all here
The only registry designed to work with your wedding website.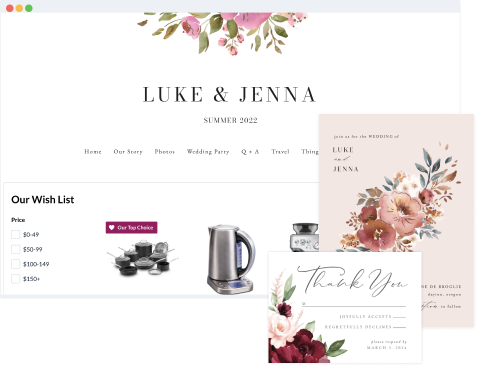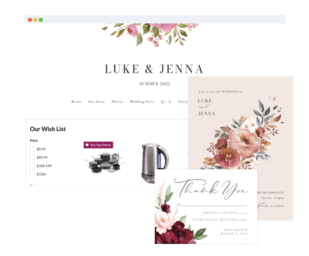 Created just for you
Get personalized picks that are uniquely you, at any price point.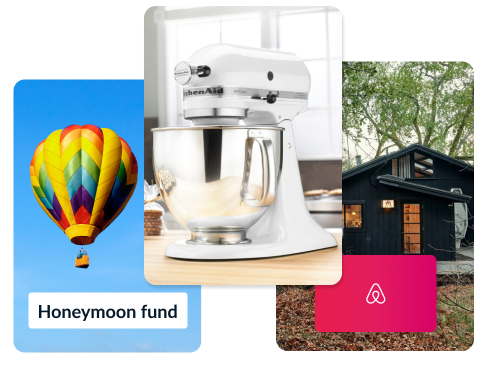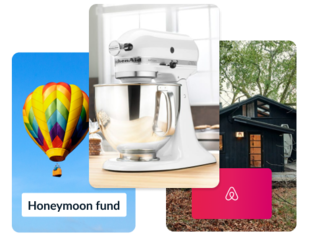 Tips along the way
Not quite sure how many gifts to add or when? We've got you.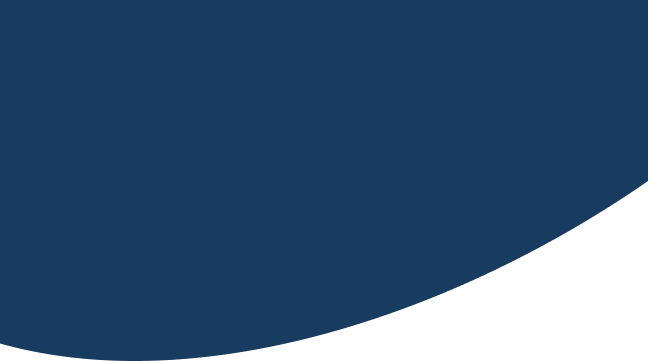 You really can have it all
The Knot is the only registry that syncs gifts from top retailers directly to your free wedding website. Add gifts directly from our own store of exclusive picks or use our browser button to add (literally!) any gift from any store.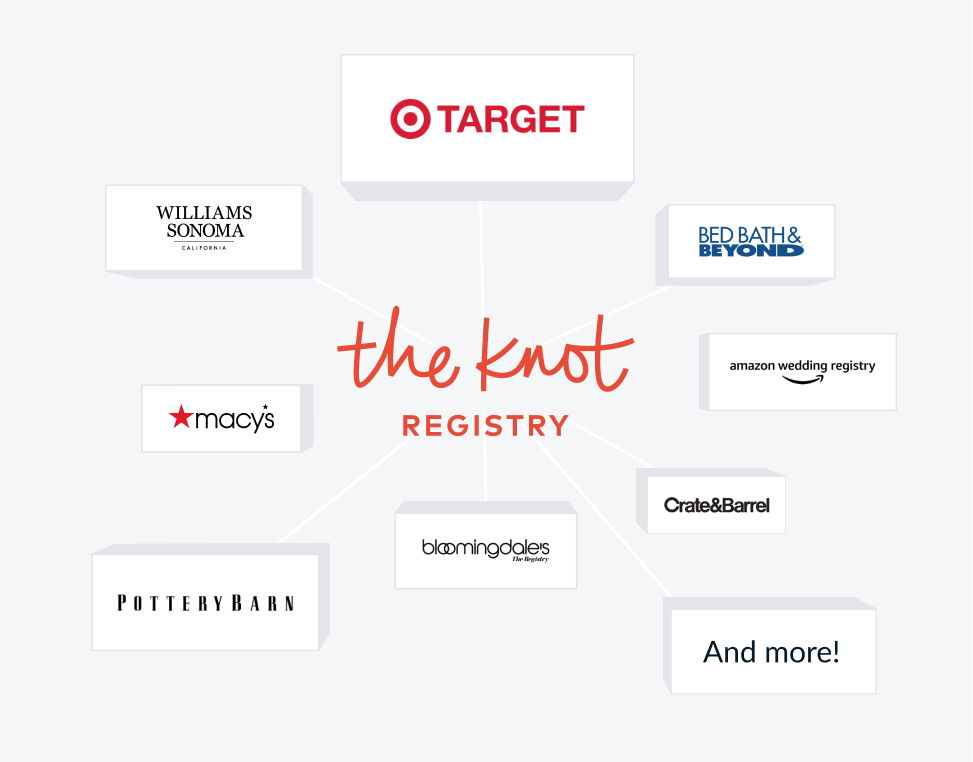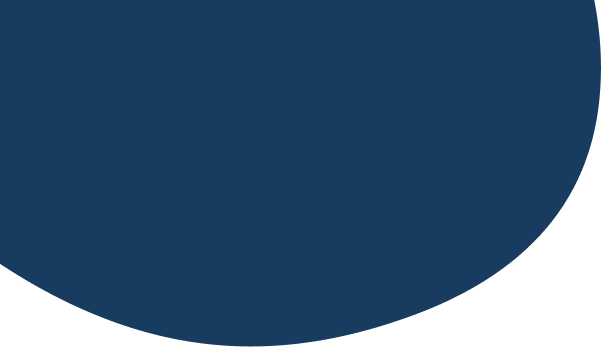 Easy for your guests
Just one link for your family and friends to shop (and see the story behind your top choices). Plus, free shipping & returns, and the most helpful customer service.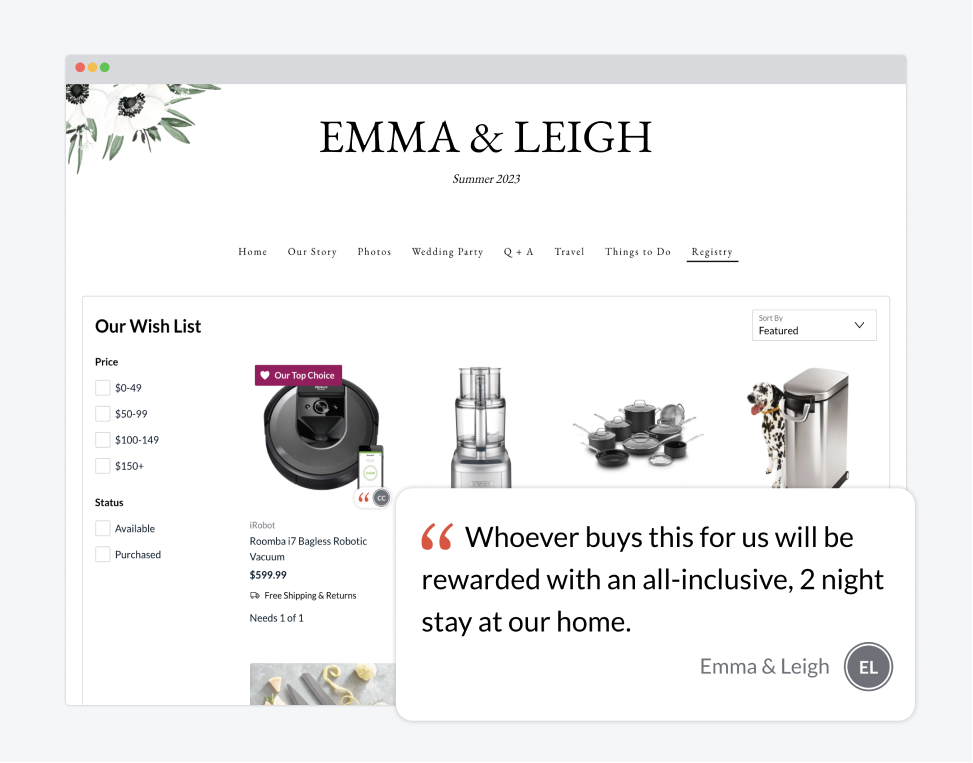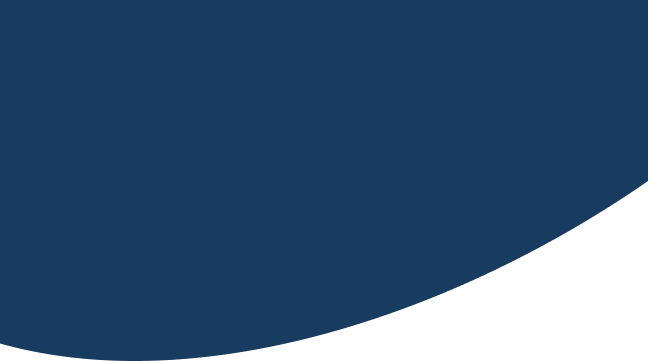 An expertly curated store
Shop our very own store that has thousands of gifts (from top brands like KitchenAid and Dyson) plus exclusive items, you can't get anywhere else.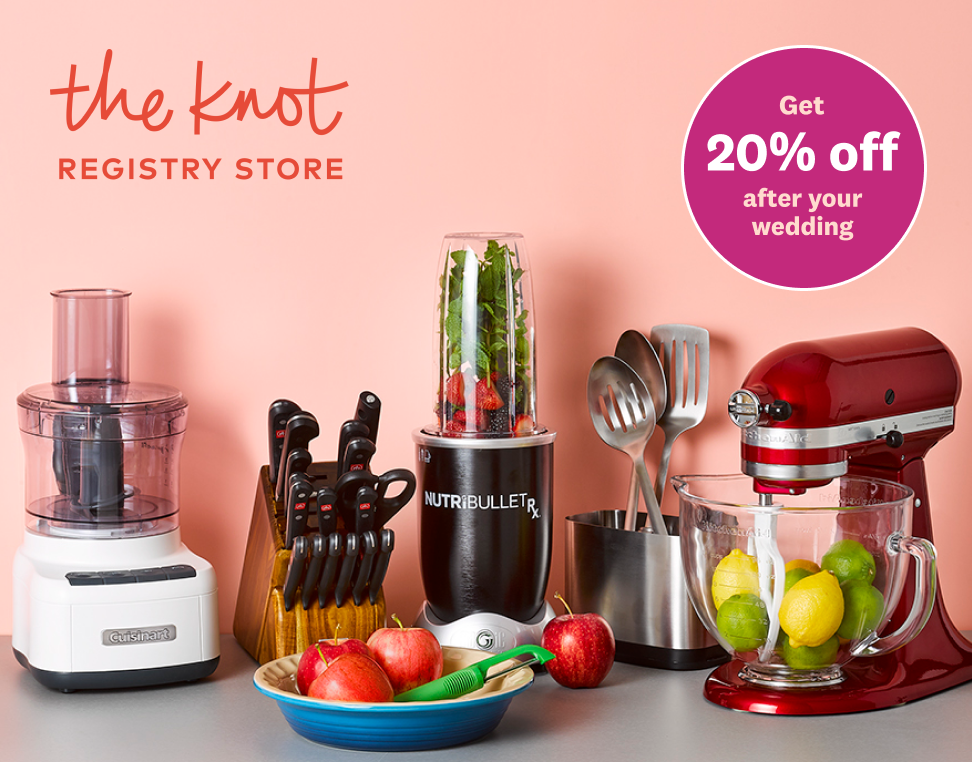 Our registry plays well with others
You don't have to choose! Gifts you add to any of these registries will magically show up on your website. The Knot Registry is theonly onethat automatically syncs with the most retailers.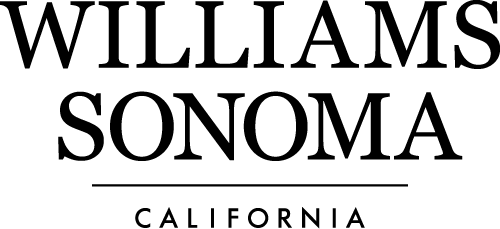 See why 25 million couples loved registering with us
"

The Knot was a true game changer for us. Their online registry saved us so much money and made it so convenient for our guests to contribute.








Got questions about The Knot Wedding Registry?
We can help! Get answers ASAP with our FAQs below or shoot our customer service team a note anytime at help@theknot.com.
We make it super simple for you to see, manage and share all of your wedding registries in a single place. Not to mention, in addition to
The Knot Registry Store
, we've exclusively teamed up with retailers like Bed Bath & Beyond, Amazon, Crate & Barrel and Target. This means we can work behind the scenes to sync up with these partners so your wedding registry is always up to date—and your cash funds and experiences appear alongside your retailer gifts.
If you want to see what your wedding registry will look like to your guests, go to "Manage Registry" or "View as Guest" in your account on The Knot. This takes you to the exact same view your guests will see when they look at your registry. You can also add quick notes to each gift to make communicating with your guests a breeze. You can even tag a registry gift as "Our Top Choice." And when you do, it'll add a badge so people know you really want it.
We've got all that! Tons of couples register for things they might not need (but really, really want) like a honeymoon, down payment for a future home or even date nights to keep the spark alive after the 'I dos' are done. Whatever your thing is, we have it. So take a peek and
start registering for experiences
or
set up a cash fund
today.
It's just three simple steps to set up a cash fund on your wedding registry on The Knot!
Step 1: Choose from our list of popular wedding funds or create your own.
Step 2: Give the fund a name, add the amount requested, write a short message for guests, then hit save.
Step 3: Let us know where your cash should go by providing your banking details. After that, your cash registry is complete.
Start adding products and we'll show you how many gifts are in your registry, the number already purchased and the amount remaining. You can even head over to the "Track Gifts" tab to get Purchased by, Gift Purchased, Order Status and Date Purchased information. Want to see the list in a different format? Hit the "Download List" button.
Of course! Just create a
Wedding Website
on The Knot and use your personal URL (the same one on your save-the-dates and invites) to share with friends and family. This helps guests track all your details, check registry requests and even update RSVPs.
The Universal Registry is a tool that lets you add literally any item to your wedding registry from any site—even small boutiques or stores without a registry program. All you have to do is add the bookmark tool to pin the image, price and quantity. From there, it automatically adds it to your registry.
We're all about making The Knot Wedding Registry easy to use. Just drag our 'Add to The Knot' Button into your bookmarks bar. Then, whenever you come across something you like, simply click the bookmark tool to add that item to your wedding registry. Yep, that's it!
Special Thanks: Iris Mannings Photography, Andrew McCaul.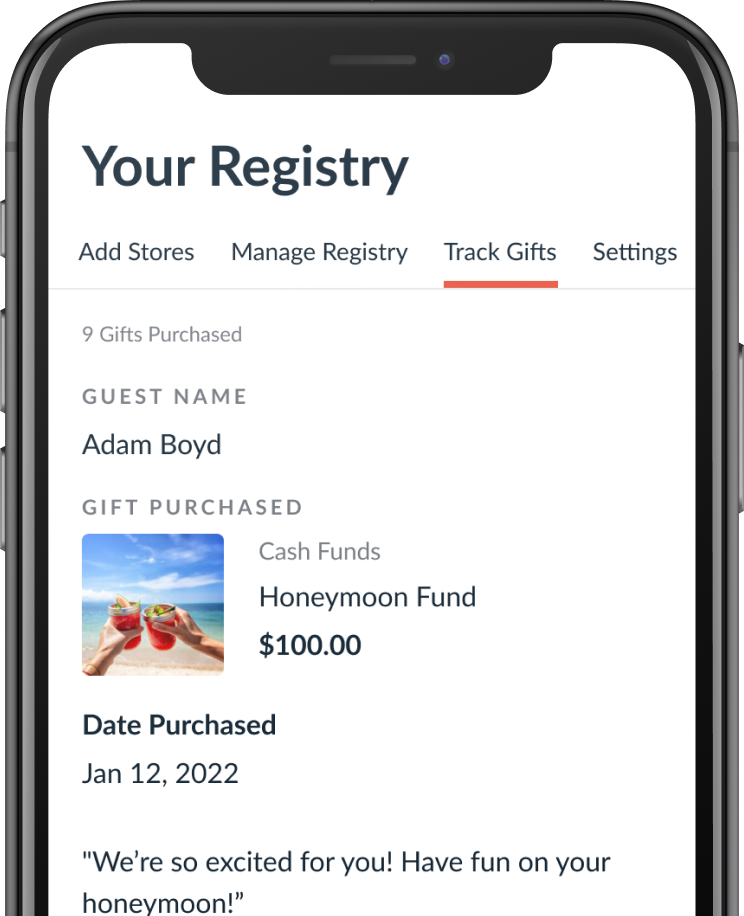 Your everything registry
Keep tabs on incoming gifts and easily update what's next on your list—anytime, anywhere with our 5-star Wedding Planner app.